Meet Dr. Kevin Mansour, Partner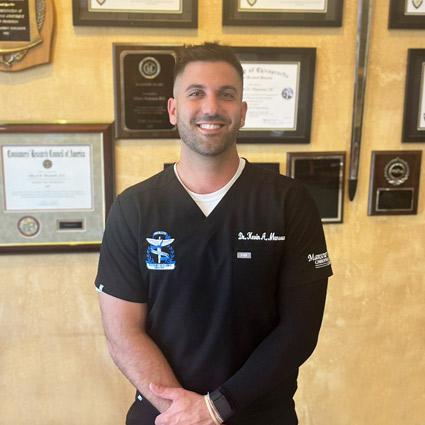 Growing Up with Chiropractic
Dr. Kevin was born with severe asthma, and his father began adjusting him as an infant. With chiropractic care, his asthma resolved, which allowed him to pursue his passion for basketball. He played on a Nike-sponsored travel basketball team throughout high school and college.
When he was a child, Dr. Kevin wanted to become a chiropractor so he could be like his dad. As he got older, he considered other healthcare options as well. He shadowed a medical doctor and realized he didn't like the brief, impersonal patient interactions. He shadowed a surgeon and discovered he couldn't stand the sight of blood. Finally, he attended a chiropractic seminar with his dad. Hearing these chiropractors talk about the body's function with such passion and love for their profession inspired him, and he enrolled in chiropractic college.
Becoming a Chiropractor During a Pandemic
Dr. Kevin attended Life Chiropractic College West in Hayward, CA, where he received his Doctor of Chiropractic degree in 2020. He completed a preceptorship in San Francisco before returning to southern California. Although it was always the plan for him to join the Mansour Chiropractic team at some point in the future, the pandemic made being with family even more important and he began practicing here on April 1, 2020.
Additional Certifications
Dr. Kevin is certified in Graston and RockTaping.
Outdoor Enthusiast
When he's not helping patients, Dr. Kevin can usually be found outdoors. He still loves basketball as well as baseball, soccer, snowboarding, surfing and watching sports. He has a golden retriever and a German shepherd, whom he's working on training. And he has a large extended family with over 35 members that he loves spending time with.
Contact Us Today
Contact us today to get started with care.

Dr. Kevin Mansour | (909) 393-4545