Meet Dr. Joshua Ellis, Chiropractic Associate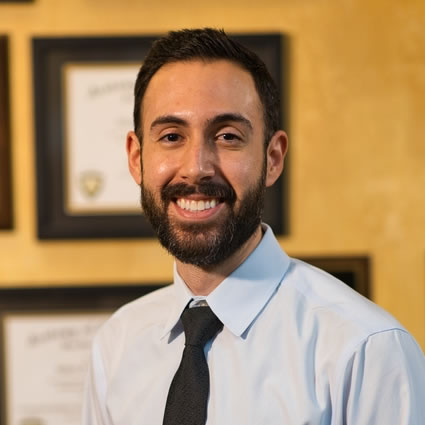 Education
Dr. Joshua Ellis was born and raised in Southern California. He knew since high school that he wanted to be a chiropractor and help people without the use of drugs or surgery. He completed his undergraduate work at California State University–San Bernardino and graduated with his Doctor of Chiropractic from Southern California University of Health Sciences in 2015. He found out during his professional education that his great grandfather was a chiropractor and attended the same school!
Focus on Function
Dr. Ellis has been practicing as an Associate Chiropractor at Mansour Chiropractic since 2015, with a focus on helping patients take care of themselves through educating them about how the body heals and functions, as well as the importance of maintenance care. He's passionate about providing care for the whole family.
Away from the Office
Outside the office, Dr. Ellis enjoys going to the movies with his wife, binging TV shows, and DIY woodworking. He and his wife have been registered foster parents since 2018. They want to destigmatize infertility as they progress through their journey and help provide hope and voices for those in the same boat. They also enjoy working out and doing obstacle course races. "AROO!!"
Book Today
Contact us today to learn more about how chiropractic care can benefit your family.

Dr. Joshua Ellis | (909) 393-4545